Apple's Mac Studio is the heir apparent for the "Pro" market, and the addition of the M2 processor to the line just solidifies that position even further.
When Apple introduced the first generation of Mac Studio, it instantly became the fastest Apple Silicon Mac you could buy. With the M2 refresh, and with the introduction of a Mac Pro sporting the same top-end chip, the Mac Studio can now be considered the second-fastest Mac in the entire Apple product catalog, topped only by the new Mac Pro.
Even with that Mac Pro looming large, the second-generation Mac Studio is still the best purchase for nearly everyone with extensive performance needs, and the budget to match.
Mac Studio – External appearances
The Mac Studio is a spec-bump, rather than an overhauled device. This is fairly normal for Apple, with it preferring to make big changes every few generations, while keeping to an internals-only affair for more frequent updates.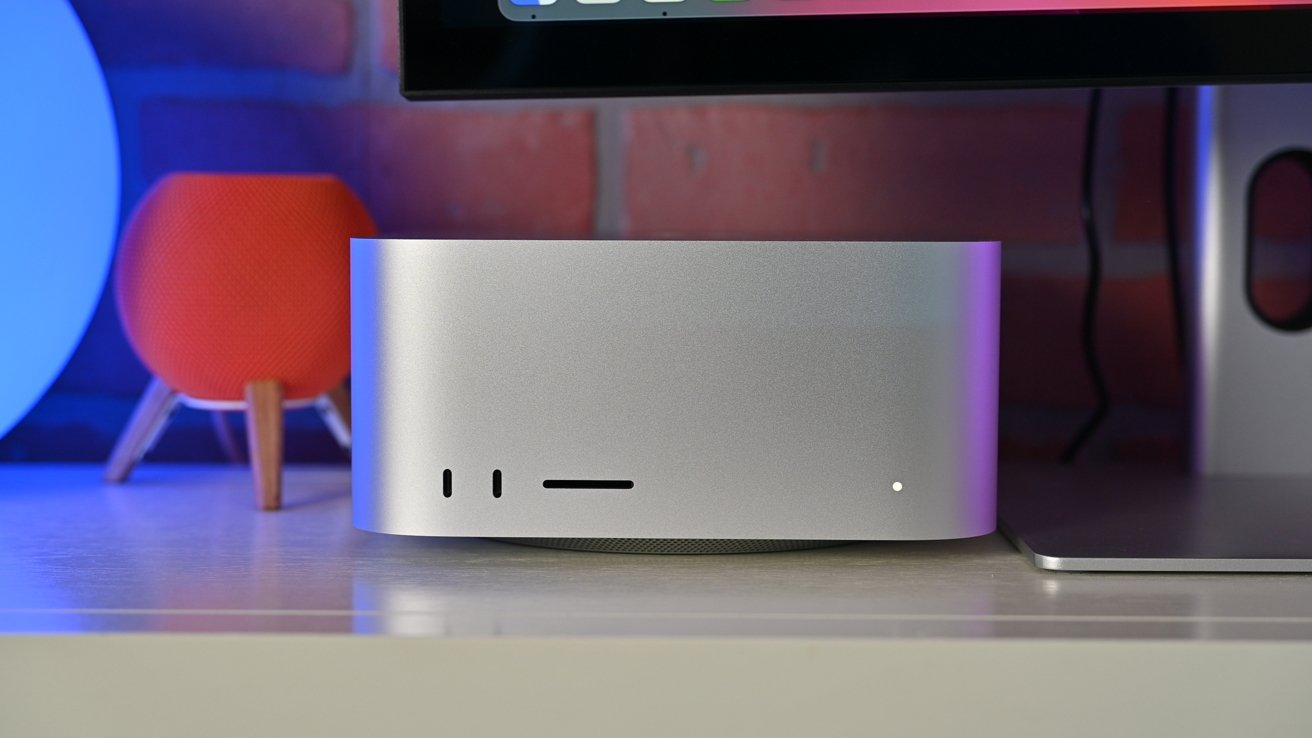 Mac Studio with M2 Max on our desk
Like the 2022 model, the Mac Studio looks like a Mac mini had visited the gym and bulked by a few inches. There's no change to that package for round two, with it still taking up the Mac mini footprint of 7.7 inches by 7.7 inches, and a considerable height of 3.7 inches.
Mac Studio
---
Apple's 2023 Mac Studio can be ordered with an M2 Max or M2 Ultra chip.
This extra size was to take into account the extra cooling required for the M2 Max and M2 Ultra chips inside the aluminum casing, and the weight matches too. The change in metal for cooling depending on the model makes the M2 Ultra version heavier at 7.9 pounds, while the M2 Max version is 5.9 pounds.
Since we're talking about desktops, this isn't really a problem.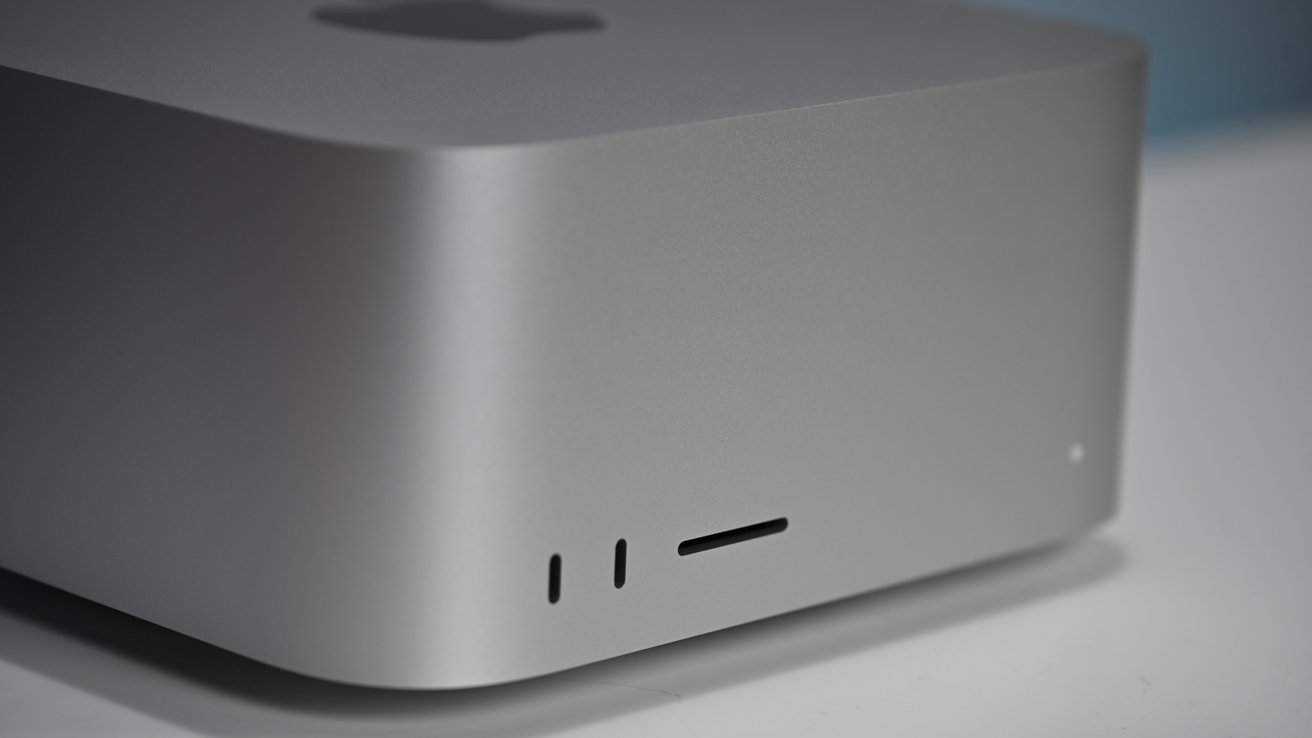 Front-facing ports of the Mac Studio
The front continues to be less blank than normal for Macs, bearing a LED in one corner, an SDXC card slot, and a pair of USB-C ports. These are USB-C ports for the M2 Max, but on the Ultra, they are Thunderbolt 4, matching the setup from last time.
At the back, you're greeted by a perforated grille that covers two-thirds of the surface to vent the machine, as well as the wide array of ports, including four Thunderbolt 4 ports, two USB-A connections, an HDMI 2.1 port, a headphone jack, and a 10Gb Ethernet port.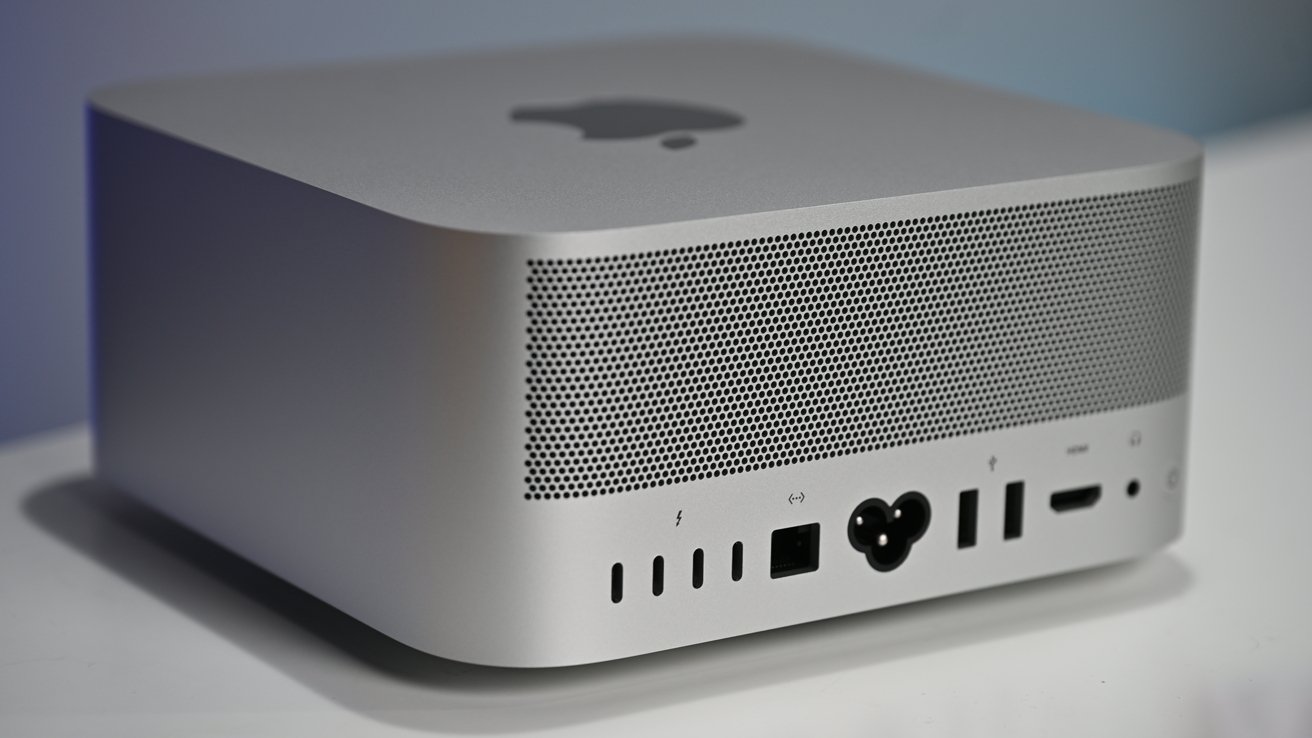 Rear-facing ports of the Mac Studio
That mesh is also visible around the circular base of the Mac Studio, allowing for proper airflow through the computing appliance.
Mac Studio – M2 Max, M2 Ultra, and internal changes
The main reasons for the upgrade are the M2 chips. The M2 Max and the new M2 Ultra.
The M2 Max edition consists of a 12-core CPU with eight performance cores and four efficiency cores, up from the ten-core CPU from the M1 Max. That's joined by a 30-core GPU, with a 38-core GPU also available, Apple's 16-core Neural Engine, and a hefty 400GB/s of memory bandwidth.
The Media Engine also makes a return to provide hardware encoding and decoding of H.264, HEVC, ProRes, and ProRes RAW video, with one decode engine, two for encoding, and two ProRes encode and decode engines.
Just like the M1 Ultra's use of two M1 Max chips in a single SoC, the M2 Ultra performs the same trick in sticking together two M2 Max chips using an interconnect. This results in a doubling of pretty much every important figure from the M2 Max.
That means you'd get a 24-core CPU with 16 performance cores and 8 efficiency cores, a 60-core GPU with a 76-core alternative, a 32-core Neural Engine, double the encode and decode engines in the Media Engine, and a massive 800GB/s of memory bandwidth.
Display support has improved with the M2, with the M2 Max capable of handling up to four 6K displays and one 4K screen simultaneously. The M2 Ultra can manage up to eight 4K screens, six 6K screens, or three 8K monitors.
To go with those chip changes, Apple has also increased the maximum potential Unified Memory that you can configure for the Mac Studio. The 32GB option remains for M2 Max, along with 64GB and a new 96GB version, though that last one requires the 38-core GPU variant.
The M2 Ultra version starts at 64GB, with options for 128GB and a new 192GB tier. This isn't the terabyte-level storage of the Intel Mac Pro, but this is still a hefty amount for production purposes.
Audio is supplied by a built-in speaker, which isn't much to write home about. We're pretty sure that if a Mac Studio is on your list, that better external speakers are within financial reach.
Wi-Fi is now supporting Wi-Fi 6E infrastructure, while Bluetooth is bumped up to version 5.3. The real-world manifestations vary, depending on what you have for a router, or Bluetooth devices. For most, still, it's more future-proofing than anything else.
Mac Studio – Upgrade costs
Storage hasn't really changed much since the M1 model, with the starter 512GB SSD available for the M2 Max, 1TB on the M2 Ultra version. Upgrades extend to 2TB, 4TB, and 8TB, albeit with Apple's usual upgrade cost. Whether or not the thousands it takes to go from 512GB to 8TB is up to you — but it is very fast, and faster than you can get using Thunderbolt.
The same can be said about memory. $200 from 32GB to 64GB is reasonable, but with it reaching $800 to go between 128GB and 192GB, it can get very costly, very quickly.
While you could mitigate the storage upgrades by going down the Thunderbolt 4 drive route, there's nothing you can do after purchase for the memory. This is obviously the same as the 2022 model.
Also, bear in mind that the starting price of these devices are $1,999 and $3,999 for the M2 Max and M2 Ultra respectively. If you wanted to go nuts and pay for a fully-loaded M2 Mac Studio, the M2 Max would set you back $5,399.
The M2 Ultra version comes in at $8,799. Thats 14 entry-level Mac minis with enough left over for a keyboard, mouse, and display.
As always, we're still not sure if internal storage upgrades are worth it for most unless you have incredibly demanding storage speed needs. Thunderbolt and USB4 SSDs are the cheapest they've been in a long time.
But on the other hand, they won't hit the 6 gigabytes per second that you can get from an internal drive on a jacked up Mac Studio.
Mac Studio — Benchmarking and performance
Geekbench recently upgraded, making all older benchmarks not fully comparable. We're using Geekbench 6.1 here to compare it to the M1 versions of the Mac Studio. As you'd expect, the M2 single-core is a bit faster than the M1 was.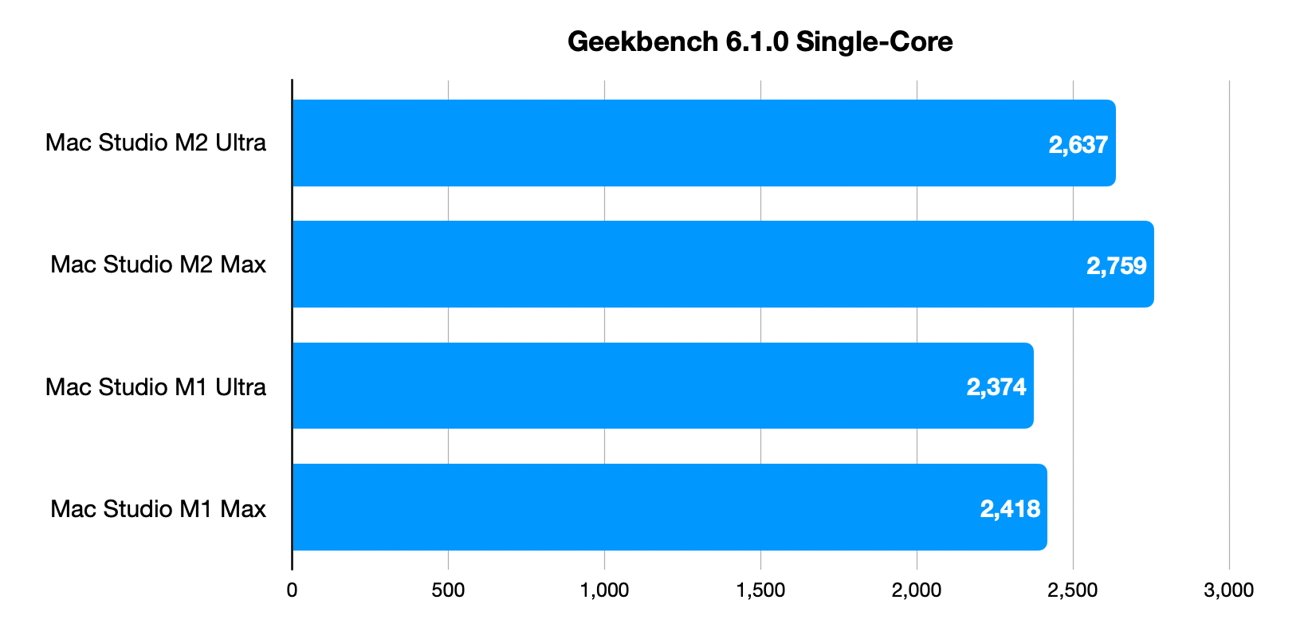 And, it's a similar story with the multi-core results.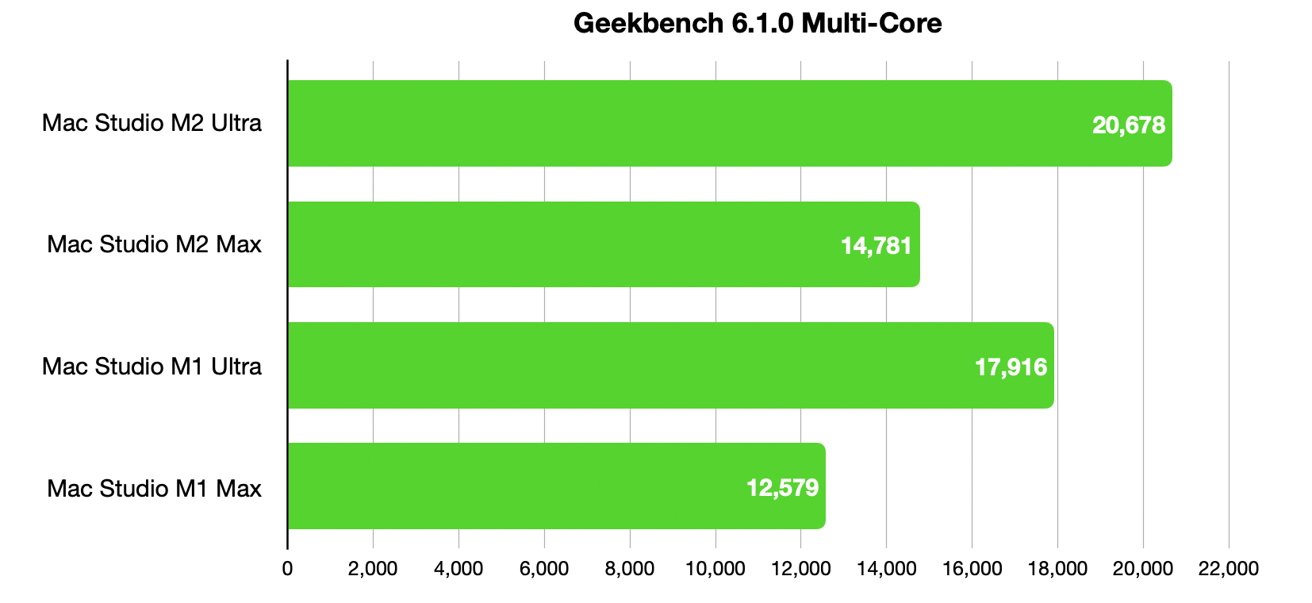 Somewhat spoiling the Mac Pro review, the new Mac Studio configured with the same M2 Ultra processor have essentially the same Geekbench results.
In Cinebench R23, we saw the multi-core performance climb to 14878 and 1658 on the single-core with the M2 Max Mac Studio. That bests the 13171 we scored on our M2 Max MacBook Pro.
And, it did this all just as quietly in the same acoustical environment as the 2022 Mac Studio delivered. The fan is barely a whisper over the normal office environment, even when getting hammered with processing load.
The Thunderbolt ports, USB-C ports, 10-gig Ethernet ports, and so forth, delivered as-expected speeds.
Mac mini, Mac Studio, or Mac Pro?
If you have any older Mac at all, and you have a need for blistering speed, your first consideration could be an upgraded M2 Pro Mac Mini. That M2 Pro version with 12-core CPU, 19-core GPU, 512GB of storage, 32 GB of RAM and Gigabit Ethernet is $1999.
You might as well get the Mac Studio with a 12-core CPU, 30-core GPU, the same 32GB of RAM, the same 512GB of storage, a few more ports, 10-Gig Ethernet, and better cooling for that same $1999.
And, for folks with the first-generation Mac Studio, there's about a 10% to 20% speed increase year-over-year, depending on what kind of job you're doing. This is nothing to balk at, when time is money.
The new Mac Pro versus the new Mac Studio is complex. The Mac Pro at $6999 grants 64GB of memory, 1TB of storage, a 24-core CPU, a 60 core GPU, internal space, and PCI-E. The Mac Studio with the same specs minus internal space and PCI-E sells for $3999.
Is that internal space, and PCI-E worth $3000? For most "Pro" users in 2023, the value and worth of the Mac Pro is shrinking, since it lost user-expandable RAM and upgradeable video cards.
Don't get us wrong — Apple still hit the target market it was shooting at with the Mac Pro. It just decided to narrow down the target excluding more use cases before it shot. And, the folks that were left outside that target aren't happy about it.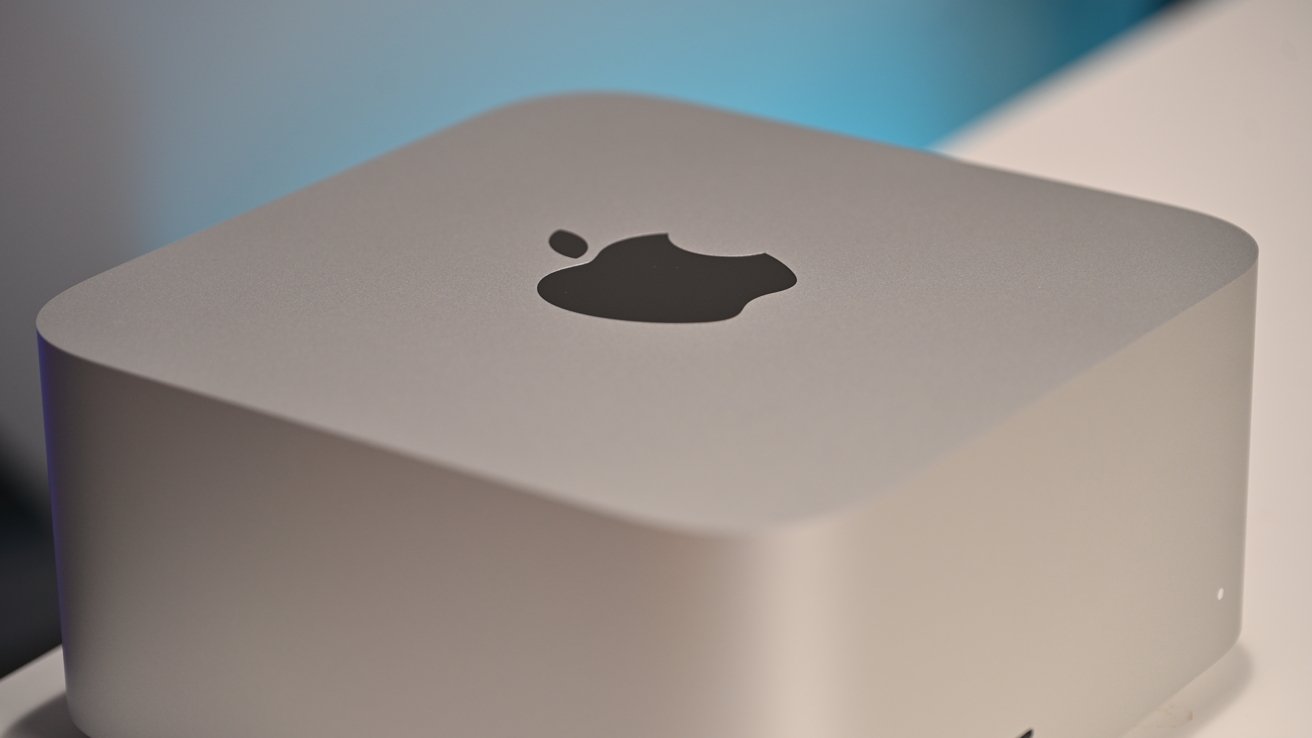 Apple logo on the Mac Studio
Anyway, in nearly every use case, and for the people left outside of Apple's shrinking Mac Pro target, we're recommending an up-gunned Mac Studio for the most demanding users, and hoping that the Mac Pro is a stop-gap for something better in the future. The days of everybody needing PCI-E are long past — but we acknowledge that there are still some that do.
For those people, PCI-E needs can generally be handled with a repurposed eGPU enclosure, or a multi-card enclosure from Sonnet.
We'll be talking more about the Mac Pro very soon.
The days of everybody needing PCI-E are long past
I'm still not a videographer. For AppleInsider, I still don't handle megabytes, gigabytes, or terabytes (depending on the decade) of data sorting, processing, and storing much anymore. A bit more than a year ago, when I reviewed the Mac Studio at its debut, I thought my days of computational-heavy image processing and subject identification from just a handful of pixels were mostly over.
As it turns out, not so much. I have an increasing number of side gigs where computing grunt is crucial. And, because of that, I know people who need that power from a Mac on the daily.
Outside of my time at AppleInsider, I'm randomly given a fluid flow problem, or some kind of weird chemistry math, and I'm asked to help.
Those folks I work with were excited when a Mac Studio could beat out the Intel Mac Pro in early 2022. They remain excited about this form-factor, and are thrilled that the M2 Ultra is available in a small enclosure.
The few folks that need PCI-E have moved to external enclosures, and it's fast enough to get the job done.
Mac Studio box
The remainders that say that they need fast PCI-E are hanging on to their Intel Mac Pro machines for a few years more, to squeeze out every penny that they spent in 2019 on those machines — and they're still doing an admirable job.
But, regardless, this Mac Studio is getting them to look sideways at the big and expensive Mac, and consider what their real needs are.
Mac Studio 2023 – Pros
The upgraded Mac Studio is about half the cost of the Mac Pro
Future-looking Wi-Fi and Bluetooth
Nearly silent under load
Incredibly speedy internal SSD, but…
Mac Studio 2023 – Cons
… you'd better get what SSD internal you need at purchase, and it's pricey!
And the same goes for RAM. Get what you need for the future, now
Score: 4.5 out of 5
Where to buy Apple's 2023 Mac Studio
Apple's Mac Studio with an M2 Max or M2 Ultra chip is on sale now, and AppleInsider readers are eligible for exclusive savings on select configurations. Details can be found in our 2023 Mac Studio Price Guide and below.
Save $100 instantly on the retail models at Apple Authorized Reseller Adorama when you shop through this link and enter coupon code APINSIDER during checkout. Optional AppleCare is also discounted with the same APINSIDER code.
AppleInsider has also compiled the best Mac Studio deals, with closeout offers available on the M1 line in addition to the M2 discounts.
credit: appleinsider